Christmas in Paris Program Details
9 Days Hosted Tour visiting Paris, Versailles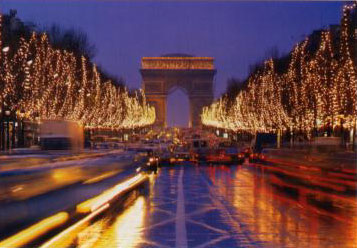 Paris at Christmas time

Day 1 - Depart USA
Overnight flight to Paris.
Day 2 - Arrive Paris (7 nights)
Greetings from Trafalgar as you arrive at Paris' Charles de Gaulle airport. You are transferred to your hotel for a week in France's elegant capital! There is so much to see and do – particularly at this time of year, when a festive atmosphere is in the air!
Day 3 - Paris Sightseeing
First of all we include a guided sightseeing tour which takes in all the main highlights including the Arch of Triumph, Champs Elysées, Place de l'Opera, views of Notre Dame and of course the Eiffel Tower. We will see the Boulevard Haussman where the big stores such as Galeries Lafayette – for which you will have discount vouchers – have their windows specially dressed for children at Christmas, and people sell hot
chestnuts in the streets. Later you will enjoy an included cruise along the river Seine taking in all the
famous sights. Then we will visit the Fragonard Perfume Factory where you will be able to purchase all manner of Christmas gifts such as scented candles, rejuvenating creams and other beauty products for your friends and family, at special discounted prices. (Breakfast)
Day 4 - Paris at leisure
A day at leisure to do as you please. Paris at this time of year is less crowded, so make the most of the lack of people to get into the Louvre (via the 'Da Vinci Code's' glass pyramid) or why not enjoy a trip to see the Impressionist paintings in the Musée d'Orsay? (Breakfast)
Day 5 - Paris – Excursion to Versailles
Today we will enjoy an included guided visit to the palace at Versailles, in the French countryside – the opulent home of the French Kings – with its spectacular ornamental gardens. (Breakfast)
Days 6, 7 & 8 - Paris at leisure
Plenty of time for shopping, sightseeing, attending fashion shows or simply sitting in the Luxembourg gardens or the elegant Parc Monceau. Paris at night is very special – but extra 'specially so at this time of year, when the Champs Elysées are aglow with Christmas lights and the Avenue Montaigne with its designer shops are decorated with such panache it would be hard to imagine a more astounding or elegant city. And don't forget to see the Eiffel Tower – gloriously illuminated with special Christmas lights! You may also wish to take in a cabaret show for which this city is so justifiably famous – book the Moulin Rouge through our representative – the Christmas shows are exceptional and we have reserved seats! And don't forget that there are all the places we can arrange for you to visit just outside the city…Monet's Giverny, Chartres or a full day trip to Normandy! (Breakfast / Breakfast / Breakfast)
Day 9 - Paris – USA
You will never regret having visited Paris at this time of year…it's exciting, it's romantic and it's a great way to spend the Christmas period. As we transfer you back to Charles de Gaulle airport you will only be thinking of how and when you will return! (Breakfast)

Call for reservation