Yangtze River Cruises
Experience the magnificent Yangtze Gorges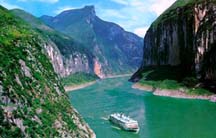 Rising in the mountains above Tibet, the Yangtze receives water from 700 tributaries as it sweeps almost 4,000 miles across the country to empty its muddy waters into the East China Sea. For thousands of years it has been China's lifeline, in reality as well as legend. A cruise on this river is a journey back in time, as its busy cities give way to small villages, terraced fields still worked by oxen, water buffalo, and the bent backs of barefoot peasants -- scenes of Chinese life unchanged for centuries. Dramatic gorges sharp peaks with fanciful names, and ancient temples will captivate you and show you a world you have only seen in painting.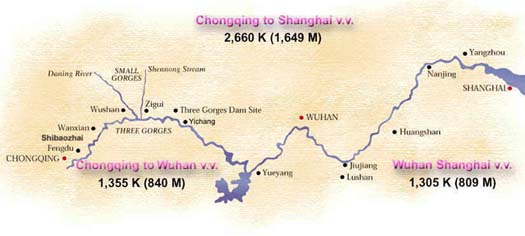 Three Gorges
The climax of your cruise is a narrow passage through the spectacular Three Gorges. The river setting is enchanting, with rushing waters and practically vertical limestone cliffs, enveloped in mists and clouds. Work on the Three Gorges Hydroelectric Dam has already begun. When the project is completed it will create a lake about the size of Lake Superior and much of the scenery will change. The dam will raise the level of the Yangtze River 150 feet. Over a million people must be relocated, the gorges will be flooded. With 15 million people, Chongqing will become the largest seaport in the world.
Qutang Gorge -- Spectacular Qutang Gorge is the shortest of the Three Gorges, but by far the most dramatic. Its sheer steep cliffs are filled with stunning vistas and interesting oddities, such as the Meng Lian staircase carved by a murdered Song Dynasty official's bodyguard who attempted to recover his master's body from the cliffside depths.
Wu Gorge -- is noted for its plunging valley and the tranquil beauty of its lushly forested mountains. The stunning "twelve Peaks", flanking the gorge, are universally renowned for their picturesque shapes and fanciful charms. Look carefully and see the elegant silhouette of a foddess emerging from the mists, blessing those fortunate enough to glimpse her.
Xiling Gorge -- Once feared for its treacherous shoals, the Yangtze's longest gorge winds 66 kilometers through rich canyons dressed with fruit orchards, picturesque villages and historic relics, among other scenic sights. See Huangling Temple, originally built during the Three Kingdoms period and rebuilt in the Tang Dynasty. These stunning jewels of the Yangtze River are among the most spectacular sights in China. Board a small rivercraft at Wushan for an adventurous 50-kilometer upstream voyage on the Daning River. The Lesser Three Gorges are awe-inspiring. Intense and compact, they are norrower, steeper, and more dramatic, with rushing crystal water, plunging precipices and towering peaks that thrust skyward.


Ancient city along the river banks
One in every fifteen people in the world live on the Yangtze River banks, at least you should come and visit during your lifetime. See the Yangtze now with all the historic relics and you should visit again after the dam has been completed to see China's new future.
Here are some of the excellent Yangtze River Cruise Programs currently available:--
Programs

Price Starting

Yangtze Sampler (12 days)
The Great Wall, Beijing, Yichang, the famous Three Gorges of the Yangtze River, Three Gorges Dam, Chongqing, Xian & Shanghai

$2,499
Land only

Beijing to Hong Kong & the Yangtze (13 days)
Beijing, Xian, Chongqing, Shibaozhai, Three Gorges Dam, Yueyang, the famous Three Gorges of the Yangtze River, Hong Kong

$4,099
Land only

Yangtze Sojourn (17 days)
Beijing, Xian, Chongqing, Shibaozhai, Three Gorges Dam, Yueyang, the famous Three Gorges of the Yangtze River, Hong Kong

$4,699
Land only

Viking River Cruises Imperial Jewels of China (12 days)
Beijing, Chongqing, Lesser Three Gorges, Shanghai, Shibaozhai, Three Gorges, Three Gorges Dam, Wuhan, Xian - Terra Cotta Warriors, Yueyang

$2,292
Land only

Viking River Cruises China's Cultural Delights (16 days)
Beijing, Chongqing, Dongting Lake, Great Wall - Beijing, Jingzhou, Lesser Three Gorges, Mt. Jiu Hua, Nanjing, Shanghai, Shibaozhai, Suzhou, Three Gorges, Three Gorges Dam, Wuhan, Xian - Terra Cotta Warriors

$3,470
Land only

Historic Cities & Yangtze River SuperValue (12 days)
Shanghai, Yangtze River Cruise, Chongqing, Xi'an, Beijing

$1,699
Land only

Grand Yangtze River SuperValue (16 days)
Beijing, Xi'an, Chongqing, Yangtze River Cruise, Shanghai

$1,999
Land only

Jewish Heritage Tour - China & Yangtze (13 days)
Beijing, Zhengzhou/Kaifeng, Xi'an, Chongqing, Yangtze River Cruise, Shanghai

$3,199
Land only

Yangtze Essence (12 days)
Beijing, Chongqing, Yangtze River Cruise 3 nts, Shanghai

$2,737
including air from LAX

Glories of the Yangtze (16 days)
Beijing, Xi'an, Chongqing, Yangtze River Cruise 6 nts, Shanghai

$2,823
including air from LAX

Golden Yangtze Discovery Downstream (15 days)
Beijing, Yangtze River Cruise 3 nts, Chongqing, Xian, Suzhou, Shanghai

$3,137
including air from LAX

Scenic Yangtze Discovery Upstream (16 days)
Beijing, Yangtze River Cruise 4 nts, Xian, Guilin, Shanghai

$3,452
including air from LAX

Tibet Highland & Yangtze River Cruise (16 days)
Beijing, Lhasa, Chengdu, Xian, Chongqing, Yangtze River Cruise 3 nts, Shanghai

$3,652
including air from LAX
Call for reservation