Windstar
Where the ordinary world
melts away.
Windstar Cruises
180° From Ordinary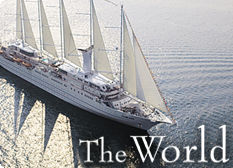 as few know it
Each Windstar ship is nautical in feeling, crisply luxurious, like someone's beloved racing yacht. Steel, teak, sailcloth, and brass ... everywhere a sense of nature pervades; views of the sea ar always close a hand.
On board, you'll discover public rooms which are airy and elegant -- lit by skylights, a mix of polished woods and natural fabrics. The bridge is open, almost any time of the day. And there you'll find the sophisticated computer technology that send six sails unfurling 204 feet overhead in two minutes, high-tech sensors to trim the angle of the sails, and the computer-controlled automated stabilizing that assures smooth sail -- as stable and comfortable as much larger ships at sea.
Up on deck, there's a sunny outdoor pool for dipping. A hot tub under the luminous evening star. A piano bar featuring live music a casino for gaming. And an open-air sports platform outfitted with sailboards, water-skis, snorkeling gear, and sailboats -- all complimentary of course.

Specials
CARIBBEAN

From $1,599 per guest

ASIA

From $1,499 per guest

COSTA RICA & PANAMA CANAL

From $1,799 per guest

CANADA & NEW ENGLAND

From $3,399 per guest

TAHITI

From $3,999 per guest

ALASKA

From $4,099 per guest

MEDITERRANEAN

From $1,799 per guest

ARABIA

From $2,999 per guest

NORTHERN EUROPE

From $2,499 per guest

OCEAN CROSSING

From $1,199 per guest