W New York At Times Square
New York - Midtown Manhattan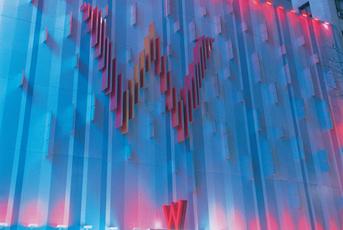 This is it. The Big Apple. Times Square. People everywhere. Hustling. Bustling. The pulse of the city. Alive. Feel the energy as you make your way to the newest W in New York. Welcome to W New York - Times Square, an oasis of calm in the midst of the flurry of a revitalized Times Square. From the moment you step inside, you will be transported to a Zen-like environment. Quiet colors, calming textures and a dramatic glass-encased waterfall that soothes the senses. Water runs overhead, streaming down on open sides, enabling you to literally "walk on water" as you enter the elevator that whisks you to Reception. It's easy to understand why Condé Nast Traveler put W Times Square on its "Hot List of Hotels."
Date
Room Type
2 Night Price*
Extra Nights*
Jan 1 - Feb 9
Standard

$289

$145

Apr 1 - May 2
May 8 - May 13
May 19 - Jun 27

$421

$211

Jun 28 - Aug 11
Aug 19 - Sep 6

$337

$169

Sep 7 - Oct 29

$519

$260
* Prices are in US Dollars, per person, based on double occupancy, mid-week arrival (excluding airfare and optional features) and may vary with different room occupancy, different length of stay and/or weekend arrival. Discount reflected in the above room rate. These rates are for advance purchase vacation package. Exact pricing may be obtained by booking this vacation. Ask us to about our supervalue airline tickets for this resort vacation.
Call for reservation
Address
1567 Broadway at 47th Street, New York, NY 10036.
Room Types

STD Standard Room
1 King or 2 Double Beds. Max Occupancy: 3, Max Adults: 2
ROH Standard Run of House Room
1 King or 2 Double Beds. Max Occupancy: 4


Lobby
<<Bedding Not Guaranteed, Use Only as a Guideline>>
General Description
The coolest spot in Times Square! 509 guestrooms, 43 suites and spectacular city views. The hotel proudly stands 57 stories above Times Square. Blue Fin, a two-story sushi seafood restaurant is one of the most popular in New York City. Randy Gerber is again the mastermind behind The Whiskey, a cool lounge space with screening room and dance floor. Guestrooms feature spectacular views of Manhattan and the Hudson River. Each room is quipped with all the W signature amenities, including the W signature ultra comfortable bed ensemble. This bed is made comfortable by the goose down duvet and pillows. Each guestroom also features Aveda bath products, cotton pique bathrobes, in room refreshment centers, cordless telephones with personalized voice mail, CD players, cable television with on demand movies. The hotel also boasts 24-hour room and concierge service, a full service health club and spa.
Location
Located in the heart of the Broadway theatre district and adjacent to the E Walk, a 200,000 square foot entertainment/retail complex that houses unique shopping, dining, and entertainment venues.
Amemnities in Room
Air-Conditioning, Bathrobe, CD Player, Clock Radio, Handicapped Accessible, Internet Access, Non-Smoking Rooms
Aveda Bath Amenities
Luxury Signature Bedding
Facilities
Business Center, Cocktail Lounge - Bar, Restaurant(s)
Hotel Services
Concierge, Room Service, 24 Hour Front Desk
Restaurants And Lounges
Blue Fin - A dramatic, floating, stainless steel staircase leads up to the second level of the restaurant and a private dining area allows guests to listen to New York City's finest jazz musicians. Hours of operation 7AM - 12:30 AM. Cuisine - Seafood.
The Whiskey - A pulsating nightclub tucked away on the lowest level of the hotel. Features an array of New York's hottest DJs spinning an eclectic mix of lively beats, and a state of the art screening room.