Tanzania Program Details
11 days incl. air, or 9 days from Arusha to Arusha (QX)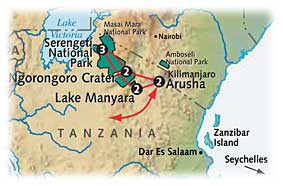 Tanzania Safari Map
Day 1
(Fri.) Board your overnight transatlantic flight.
Day 2 Arusha, Tanzania
(Sat.) Welcome to Africa—today your flight arrives at Kilimanjaro Airport. Look forward to a journey through majestic, unspoiled landscapes to fabulous game reserves and conservation areas where the Dark Continent's incomparable wildlife is protected in its natural habitat. Vibrant Arusha Town is located at the foot of Mount Meru and lies exactly halfway between Cairo and Cape Town. Your hotel tonight is just outside town in the peaceful midst of one of the coffee plantations. (D)
Day 3 Arusha–Ngorongoro
(Sun.) Drive to GIBB'S FARM to marvel at the luxuriat gardens, and enjoy delicious lunch. Near the village of Karatu, visit the AXWESSO IRAQW CULTURAL HOME to learn of tribal life of times gone by. Dinner and overnight at the Ngorongoro Sopa Lodge. (B,L,D)
Day 4 Ngorongoro
(Mon.) The NGORONGORO CONSERVATION AREA, part of the Serengeti ecosystem, is certainly one of the world's most famous natural splendors. The caldera, 2,000 feet below the rim and covering 102 square miles is a World Heritage site, hosting an unbelievable variety and density of wildlife. Exciting discoveries await during your crater tour. Return to your lodge for a late lunch, then time to relax and admire a breathtaking views over the caldera. (B,L,D)
Day 5 Ngorongoro–Serengeti
(Tue.) Located in the eastern Serengeti Plains, OLDUPAI GORGE is a very steep-sided ravine where, in the earlier part of the 20th century, archaeologists Dr. Louis and Mary Leakey made one of the most important finds relating to the evolution of mankind. Visit a MAASAI VILLAGE and learn how its elegant people have managed to conserve traditions up to today. Enjoy a picnic lunch, then marvel at the endless plains of the Serengeti, its acacia trees, and its hosts of wildlife. (B,L,D)
Day 6 Serengeti
(Wed.) Another day in splendid SERENGETI NATIONAL PARK. During your extended game drive look out for elephants, wildebeest, zebras, and lions resting in trees, or on the magnificent kopje rocks. With a bit of luck you might catch site of the elusive leopard, a cheetah, or even the endangered rhino. (B,L,D)
Day 7 Serengeti–Lake Manyara
(Thu.) Drive to Lake Manyara Serena Lodge, perched on the edge of he Rift Valley with fantastic views of LAKE MANYARA NATIONAL PARK below. After lunch, take an afternoon game drive through this attractive park, and its ancient forest: see mahogany and sausage trees, and catch sight of giraffes, elephants, impalas, baboons, and a myriad of other creatures. (B,L,D)
Day 8 Lake Manyara–Tarangire
(Fri.) After breakfast, depart for TARANGIRE NATIONAL PARK in time for lunch at your lodge. Afternoon game drive. (B,L,D)
Day 9 Tarangire
(Sat.) A morning game drive brings you back to your lodge during the heat of the day to relax at the pool, take in the beautiful scenery, or maybe watch the antics of the resident vervet monkeys, mongoose, and hyrax. In the late afternoon, embark on another game drive. (B,L,D)
Day 10 Tarangire–Arusha–Homebound Flight
(Sun.) Arrive in Arusha in time for lunch. This afternoon, tour ARUSHA TOWN, established in 1900 by the German colonialists as a garrison. Today the city has once again gained importance as the headquarters of the revived East African Community, and as host of the International Tribunal. A day room will be provided at the Arusha Coffee Lodge until 5 pm. Afternoon tea before transferring to Kilimanjaro Airport for your homebound flight. (B,L)
Day 11
(Mon.) Your homebound flight arrives today.
AIRPORT TRANSFERS
Airport transfers may be included when you make your flight arrangements.
Legend
B
Breakfast
L
Lunch
D
Dinner
Departures & Pricing

Call for reservation