Resorts

Honeymoon
800 990-3454
We would like to provide the very best service to our clients. We regret we cannot service reservations booked through our competitors' websites.
If you are unable to reach our competitors by phone, we can only suggest you should book with us.
We would like to make your dream vacation happen!!

| China Hotels | Main Index |

China World Hotel
Beijing, China
| | |
| --- | --- |
| | Located in the heart of the diplomatic and financial district close to the Forbidden City. China World Hotel is one of Beijing's fineest hotels. Being part of the China World Trade Center, this luxury hotel offers unrivailed access to its extensive conference and exhibition facilities, making ots a perfect startomg [oint for both business and leisure. All 716 rooms offer panoramic city views and are equipped with a complete range of amenities,. Complimenting its excellent facilities is a world-class fitness center and the finest restaurants Beijing has to offer. |
Date
Room Type
Rate*
Mar 1 - Dec 31
Superior
$120
Superior + Breakfast
$138
Superior + Breakfast
Airport Transfers
Dry Clean Service
$180
* Prices are in US Dollars per room per night, mid-week arrival (excluding airfare and optional features) and may vary with different room occupancy, different length of stay and/or weekend arrival. Excluding tax 15% plus $0.70 per person per night. Discount reflected in the above room rate. These rates are for advance purchase hotel package. Exact pricing may be obtained by booking this vacation. Ask us to about our supervalue airline tickets for this city hotel.
Call for reservation

Address
1 Jian Guo Men Wai Avenue, Beijing 100004, China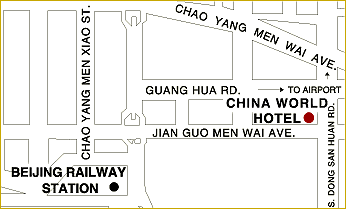 Room Types
Superior - 2 Double Beds.
<<Bedding Not Guaranteed, Use Only as a Guideline>>
Amenities in Room
Satellite/Cable Television, In-house Movie Channels, International Direct Dial Telephone with Voice Mail, Electronic Safe, Mini-bar, Coffee/Tea Making Facilities, Full-size Executive Writing Desk.
Facilities
Lobby Lounge, 4 Restaurants (International, Cantonese/Chinese, Japanese, American), Bar & Grill, Aerobics/Dance Studios, Fitness Center, Golf Simulators, Pitch & Putt Golf, Indoor Ice-sketing Rink, Indoor Swimming Pool, Sauna, Steam Room, Solariums, Squash Courts, Table Tennis, Tennis Courts, Whirlpools, 24-hour Room Service, Baby-sitting/Child Care, Business Center, Internet access (at Business Center), Conference Facilities, Delicatessen, Drugstore, Florist, Foreign Exchange Counter, Gift Shop, Hair/Beauty Salon, Laundry & Valet Services, Safe Deposit Box, Pastry Shop, Shopping Arcade, Photo Processing Services, Postal/Parcel Services

1vacation, vacation, vacations, Shangri-La Hotel Beijing, Shangri-La Hotel Beijing, Shangri-La Hotel Beijing, Shangri-La Hotel Beijing, Shangri-La Hotel Beijing, Shangri-La Hotel Beijing, Shangri-La Hotel Beijing, Shangri-La Hotel Beijing, Shangri-La Hotel Beijing, Shangri-La Hotel Beijing, Shangri-La Hotel Beijing, Beijing Hotels, Beijing Hotels, Beijing Hotels, Beijing Hotels, Beijing Hotels, Beijing Hotels,