Cruises

Honeymoon

Resorts

Travel Guide

Kids' Programs

800 990-3454

We would like to provide the very best service to our clients. We regret we cannot service reservations booked through our competitors' websites.

If you are unable to reach our competitors by phone, we can only suggest you should book with us.

We would like to make your dream vacation happen!!

| Radisson Seven Seas | Cruise Index | South Pacific | Main Index |

Radisson Seven Seas Cruises - m/s Seven Seas Mariner
Grand Circle South America Voyage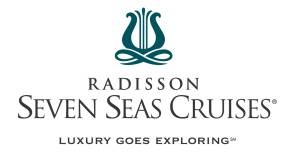 Early Booking 25% Savings And More
All-suite, All-balcony Seven Seas Mariner
Grand Circle South America Voyage
January 10th to March 13th, 2006
• Savings up to $92,468 per couple
• Up to $1,000 per suite shipboard credit
• Complimentary highlight shore events
• Segments or full cruise from 12 to 62 nights
• Optional extensions to Machu Picchu,
Iguazu Falls, Antarctica and more

Luxury goes exploring as the six-star Seven Seas Mariner follows the paths of long ago adventurers to fascinating South America. Her 700 fortunate guests will encounter endless discoveries and amazing contrasts in lands of steaming jungles and snow-capped volcanoes, from the sun-bleached Atacama Desert to the ice-fringed fjords of southern Chile. With ancient civilizations hidden in the Andes and vibrantly modern pulsating cities like Buenos Aires, Santiago and Rio de Janeiro, this vast continent is a spectrum of cultural variety and scenic wonders.
Exceptional Savings and Values for Full-Cruise and Segment Guests:
25% Early Booking Savings applies to all categories and all segments
Shipboard credit of $500 to $1,000 per suite for full-cruise guests, or $100 to $200 per suite per segment for all other guests.
Complimentary highlight shore event on each segment for all guests.
Full-cruise guests receive complimentary First Class air from any RSSC gateway plus three additional exclusive shoreside events.
Destination lecturers, bridge instructor, gentlemen hosts and a staff of 445 catering to a maximum of only 700 guests.
Full cruise Jan. 10, Round-trip Fort Lauderdale, 62 nights from $24,534pp or 1, 2 and 3 segment options are also available:

Jan. 10
Ft. Lauderdale to Manaus,
12 nights from $4,946pp


---

Savings of $3,298 to $13,198 per couple


---

Visiting St. Barts, Dominica, Barbados, Devil's Island (French Guiana), cruising Amazon River, Alter do Chao & Parintins (Brazil).
Featuring overnight onboard in Manaus.


Jan. 22
Manaus to Buenos Aires, 17 nights from $7,796pp


---

Savings of $5,198 to $20,848 per couple


---

Visiting Boca da Valeria, Santarem, cruising Amazon River, Fortaleza, Salvador de Bahia & Rio de Janeiro (Brazil) and Punta del Este & Montevideo (Uruguay).
Featuring overnights onboard in Manaus, Rio and Buenos Aires.


Feb. 8
Buenos Aires to Callao (Lima), 20 nights from $8,921pp


---

Savings of $5,948 to $23,798 per couple


---

Visiting West Point & Port Stanley (Falkland Is.), Ushuaia (Argentina), Punta Arenas, Cruising Chilean Glaciers & Darwin Channel, Puerto Chacabuco, Puerto Montt, Valparaiso/Santiago & Coquimbo (Chile) and Pisco (Peru).
Featuring overnights onboard in Buenos Aires and Punta Arenas.


Feb. 28
Callao (Lima) to Ft. Lauderdale, 13 nights from $5,396pp


---

Savings of $3,598 to $14,398 per couple


---

Visiting Salaverry (Peru), Manta (Ecuador), Pearl Islands & Gatun Yacht Club (Panama), transit Panama Canal, Pto. Limon (Costa Rica), Sto. Tomas de Castilla (Guatemala) and Belize City (Belize).
Featuring overnight onboard in Callao.


Combination savings are available for guests taking multiple segments
Examples: Ft. Lauderdale to Buenos Aires, 29 nights from $11,893pp
Manaus to Callao, 37 nights from $15,603pp
Buenos Aires to Ft. Lauderdale, 33 nights from $13,363pp
Ft. Lauderdale to Callao, 49 nights from $19,353pp
Manaus to Ft. Lauderdale, 50 nights from $19,755pp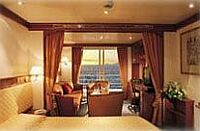 Every accommodation is a suite with balcony, at least 301 sq. ft. with marble bath and walk-in closet. Guests will enjoy exemplary six-star service and attention to detail, the result of a top-to-bottom insistence on uncompromising quality. Radisson Seven Seas Cruises consistently provides the best values in luxury cruising. Gratuities, wine with dinner, soft drinks and in-suite bar set-up are all included in the fare.
Terms & Conditions: Quoted fares are subject to availability, per-person, double occupancy in US dollars, after savings have been deducted based on category H deluxe balcony suite. Single supplement from 30% is capacity controlled and applies to cat. D-H, or from 75% for cat. HS-C. Zone air add-ons are available from 86 North American gateways. Port, handling and security charges and air and fuel surcharges are additional.
Call for reservation
8 x 21 Binoculars
High tech 8x21 binoculars for all outdoor activities, including hiking, bird watching, and marine lifes.

FREE GIFT !!!

Book a Radisson Seven Seas Cruise to South America here by Dec 31, 2005 to get a 8 x 21 binoculars free!

To get free gift all reservations must be made through (800) 990-3454